Archives
The service is intended to be anonymous. If you find yourself trying to jump off this bridge and don't have a phone, I guess you're out of luck!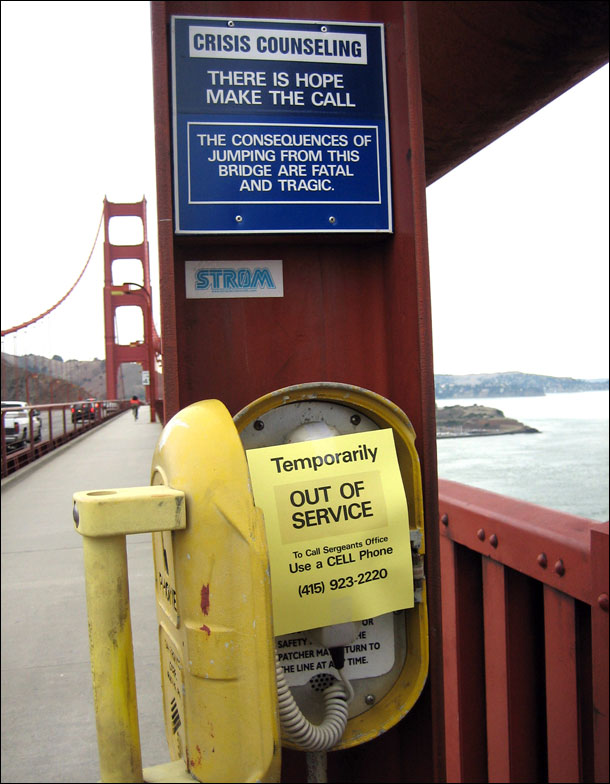 It is incredibly frustrating that there is no exact date for iPhone's availability in Canada. With Christmas just around the corner, the waiting game can get very annoying. I called Rogers many times and get the same answer from their customer representatives "We don't know when the exact release date is... but I hope it is released before Christmas... ".
Back in April, CBC (http://www.cbc.ca/technology/story/2007/04/03/tech-iphonejune-20070403.html) reported that the device may not come to Canada. Many other sources tell us that Rogers is waiting for sales reports from the States.
In my opinion, since Rogers and Fido are the only GSM providers in Canada, the iPhone will be released by them. Based on the responses given by their customer reps, it will be a matter of time.
Here are some reasons for the delay:
Rogers/Fido have terrible service. This could be the reason why their 'talk' with Apple is talking such a long time!
Rogers could also be waiting for the 3G iPhone release before making it available for the Canadians.
Due to prior exclusive contracts with Sony, it may cause a lot of issues to start carrying iPhones.
Rogers voice and data packages are too expensive. They are probably negotiating a more affordable/reasonable data package to go with the iPhone
I guess we'll have to wait and see. I don't think it will happen before Christmas! So just forget about the iPhone for now. When it becomes available, you'll definitely be notified by Rogers. That's all folks!