Comments
July 24, 2007: Got yourself in an embarrasing situation?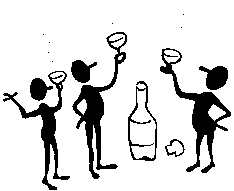 You've gone clubbing or to a party and got yourself into an embarrasing situation where the opposite sex insists on having your number. However, you really don't like them. In fact, they're getting on your nerves...

so what do you do? Give them your number!!
Memorize these numbers based on your area and give it to them.
They'll get the message when they make the call the next day... Cheers!
204-272-3976 (Winnipeg)
250-984-0686 (Victoria)
403-775-9982 (Calgary)
514-667-0361 (Montreal)
519-488-2355 (London)
613-686-3620 (Ottawa)
647-476-4910 (Toronto)
778-786-8557 (Vancouver)
780-669-5270 (Edmonton)
905-963-0318 (Hamilton)

Comments made
Add comment