Comments
August 21, 2007: Little Known Facts about Bill Gates
Bill Gates is known as the World's richest man (although he was recently de-throned), yet most people really don't know a whole lot about the name and face behind Microsoft. Today's Microsoft Monday is all about Bill and some little known facts about him. We've also included a photo that shows the Microsoft team in 1978, and details about where everybody is now. I'm sure Gates wasn't expecting his team would eventually leave and get into jobs like cattle ranching or creating the Cabbage Patch Doll, but they did!
Little Known Facts about Bill Gates
William Henry Gates was born on October 28, 1955, in Seattle, Washington.
His SAT score was 1590. The top score for the test is 1600.
By the age of 17, Gates had sold his first computer program, a time-tabling system for his high school, for $4,200.
Gates told his university teachers he would be a millionaire by age 30. He became a billionaire at age 31.
While at Harvard, Gates co-wrote Altair BASIC, which became Microsoft's first product.
He met his wife, Melinda French, in 1987 at a Microsoft press event in Manhattan while she was a worker for the company. They would go on to get married on New Years Day in 1994.
In 2002, Bill Gates was considered more idolized than Chinese Communist leader Mao Tse-tungin a poll of teenagers in Hong Kong and China. The survey was conducted by the City University of Hong Kong.
He is currently having a building named after him at Carnegie Mellon University, called the Gates Building of Computer Science.
Bill Gates earns $250 every second; that's about $20 million a day and $7.8 billion a year!
If he drops a thousand-dollar bill, he needn't even bother to pick it up because in the four seconds it would take him to pick it up, he would've already earned it back.
Where are they now?
This photo shows the early team that made up Microsoft in 1978. We know Bill stuck around, but what happened to the others? Everybody you see pictured except Gates, eventually left Microsoft (although Paul Allen is still a senior strategy advisor) .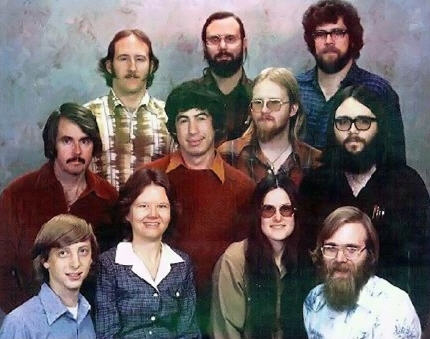 Pictured above is Bob O'Rear who was Microsoft's Chief mathematician. He left Microsoft in 1993 and then went on to be a cattle rancher.
Another example is Bob Greenberg who was a programmer. When he left Microsoft in 1981, he went on to help develop Cabbage Patch dolls!
Marla Wood was a bookkeeper and left Microsoft in 1980 and then sued them for sex discrimination. Now she describes herself as a "professional volunteer."
Jim Lane was a project manager and left Microsoft in 1985, and eventually went on to own his own software company.
Comments made
A PERSON wrote:
WHY DOES NOT SHOW HOW MUCH HE IS WORTH OR HOW MUCH MONEY HE HAS
August 22, 2007 20:58:37 | Keep up-to-date -->
Subscribe to Comments...
|
Subscribe to Comments by Email
Because these are little known facts about Bill... Everyone knows how much he's worth...
August 23, 2007 08:49:08 | Keep up-to-date -->
Subscribe to Comments...
|
Subscribe to Comments by Email
bill gates wrote:
if i was the people in the photo i would have wished i would of stuck around.
February 03, 2008 15:45:55 | Keep up-to-date -->
Subscribe to Comments...
|
Subscribe to Comments by Email
Add comment