Comments
October 23, 2007: Woman finds painting worth $1,000,000 by someone's trash.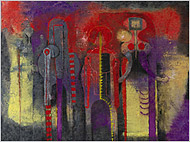 "It's hardly a place you would expect to find a $1 million painting.
But one March morning four years ago, Elizabeth Gibson was on her
way to get coffee, as usual, when she spotted a large and colorful abstract
canvas nestled between two big garbage bags in front of the Alexandria..."

Click here for the full article >>
Comments made
Add comment