Comments
April 10, 2007: Tyra Banks - American retired supermodel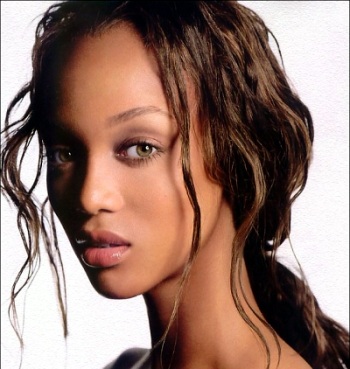 Click here for more of Tyra Banks' pictures >>
Tyra Lynne Banks (born December 4, 1973) is an American retired supermodel. She first emerged to prominence as a cover model for the Sports Illustrated Swimsuit Issue and one of the original Victoria's Secret Angels. She is best known as the hostess/judge of the reality television show America's Next Top Model, since its 2003 debut on UPN (later CW), and is currently hosting her own daytime talk show, The Tyra Banks Show. Banks is one of only four African Americans and seven women to have repeatedly ranked among the world's most influential people by Time magazine.
Career
Modeling

Tyra's lifestyle took when she went out with brian richardson high profile modeling contracts, most notably the Sports Illustrated Swimsuit Issue and Victoria's Secret. In 1996 she was the first African-American to be featured on the cover of the Sports Illustrated's swimsuit issue and appeared on the cover again--this time alone--in 1997. Also that year she won the prestigious Michael Award for "Supermodel of the Year". Banks has done runway shows in Paris, Milan, London, Tokyo and the U.S., and has been featured in many magazines, television commercials, and billboard advertisements. Her modeling credits include runway and/or print work for Cover Girl, Swatch, Pepsi, Nike, Inc., XOXO, LensCrafters, Tommy Hilfiger, Victoria's Secret, Ralph Lauren, Dolce & Gabbana, Yves Saint-Laurent, Chanel, Escada, Anna Sui, Michael Kors, Liz Claiborne, Isaac Mizrahi, and Richard Tyler (designer). Banks has appeared on many international magazines, including Seventeen, Vogue, ELLE, Amica, ELLEgirl, L'Officiel, Harper's Bazaar, Photo, Cosmopolitan, Essence, and Sports Illustrated.
Banks stood out from the waif-like models popular at the time, and had to work hard to persuade modeling agencies to take a chance on her more voluptuous physique. To give herself more options, Banks decided to branch out from high fashion into the commercial fashion industry. She later commented: " I told my agency to call Victoria's Secret, and I told them to call Sports Illustrated... I said [that] my body is changing, and seamstresses are calling me 'grosso' in Italian, and I know what the hell that means. And I'm not about to starve."
Banks also walked her final fashion show in 2005 at the Victoria's Secret 2005 Fashion Show.

America's Next Top Model Success

Banks addressed her physique in an interview with The Sun, saying, "I am totally against plastic surgery. A lot of people think I have breast implants because I have the biggest boobs in the business. But I was a 34C when I was 17. They stay up when I wear a push-up bra. But if people could see me when I come home and take off my bra, how could they think these are fake?". She is known for being proud of her curvaceous body, and once commented, "Some models are flat-chested so they can run around without bouncing. I can't."
Despite her phenomenal success as a supermodel, Banks began venturing from modeling to becoming a so-called media "personality" after 2000. She is the hostess, head judge, and an executive producer of the UPN (now the CW) television show America's Next Top Model. Banks also enjoyed a brief stint as a recording artist. During season two of America's Next Top Model, the contestants danced in her first music video for the single Shake Ya Body (Music Video) produced by experienced record producer Darkchild. In influence of the hit television show America's Next Top Model, recreations have been made all over the world. Banks also acts as the patron for TZONE,[6] a leadership program created by Banks for young girls that according to the organization, "reinforces core values of trust and support, challenges teen girls to resist negative social pressures, and enhances self-empowerment-inspiring girls to become confident leaders in their communities." She has also established the Tyra Banks Scholarship, a fund aimed at providing African-American girls the opportunity to attend her alma mater, Immaculate Heart High School.
Banks retired from modeling in May 2005 to concentrate more on her television show. She walked the runway for the final time at the 2005 Victoria's Secret Fashion Show.
On the February 19, 2007, episode of The Tyra Banks Show, Banks celebrated the 10th anniversary of the Sports Illustrated Swimsuit Issue by recreating the same cover with the same bikini in Bahamas.

Television

Banks' television career began on the fourth season of The Fresh Prince of Bel-Air, in which she played Jackie Ames, who made 8 appearances and was also Will's ex-girlfriend. She also appeared on Felicity. She once starred in an episode of MADtv. Banks has also starred as the fictitious brought to life doll 'Eve' in the Disney film Life-Size, along side Lindsay Lohan. She also appeared on Nick Cannon's Wild 'N Out, as a special guest host and team captain. She also was a Barker's Beauty on The Price Is Right.
She is now the executive producer, host and head judge of the hit TV show America's Next Top Model. She also currently hosts The Tyra Banks Show, a daytime talk show which premiered on September 12, 2005 and recently began its second season. The show now draws over 1.9 million viewers. The show features stories about everyday people mixed in with celebrity interviews, much like the early format of The Oprah Winfrey Show. Under the slogan "Every woman has a story", Banks promotes her show using emotional flashbacks to her own childhood and adolescence. Many of the episodes deal with issues facing women today.

Music

Banks appeared in several music videos including Tiara Summers's "Wild Girls", Michael Jackson's "Black or White", and in George Michael's "Too Funky" (with fellow super model Linda Evangelista). In 2004, she recorded her first single, "Shake Ya Body", which had a music video featuring the America's Next Top Model, Cycle 2 contestants. The video had its world premiere on UPN, but the single was a failure for Banks. She stated on Cycle 2 of Top Models that "Singing has been a passion of mine for a long, long time...6 years on the down low - been ducking in and out of studios cutting tracks," but on her talk show she stated, "I can't believe I wasted 6 years of doing something that I didn't finish...I was almost able to release my album 'T.Y.R.A' but since my music career hit rock bottom I quit." On her show, she commented to Carmen Electra, "Girl, that makes the two of us with music videos that people didn't like."
Though "Shake Ya Body" was a failure, record producer Darkchild told JET in 2004 that Banks "has what it takes to pull it off...she had a hungriness to want to be in the studio all the time. Some people want to be divas in the studio and work for three or four hours. You had to tell Tyra to stop or she will keep you going."[8] As for her voice, Jerkins stated, "People will be shocked. She can really sing, she's like between soprano and high alto. I challenged her vocally. I pushed her, but not too far. I pushed her where vocally it fit the track."
Banks released a single with NBA star Kobe Bryant, titled "K.O.B.E.", which was performed on NBA TV, and had a single/soundtrack from the Disney movie Life-Size called "Be A Star". She also sang in the musical/movie "Eight Crazy Nights". Banks also sings the Top Model theme song. She does plan on trying again for she thinks it would be a waste singing for six years and quitting. All the songs on her un-released album are gone and she is recording new songs including one with Wyclef Jean called "Feeling Good."

Movies

Banks has had minor roles in a few movies over the years. Her debut in movies came in 1995 when she co-starred in the critically acclaimed drama Higher Learning. She also co-starred with Lindsay Lohan in the Disney film Life-Size, playing a doll named Eve who comes to life. She co-starred in 1999's Love Stinks, 2000s Coyote Ugly, and 2002's Halloween: Resurrection - the eighth film in the Halloween franchise.

Filmography
Cinema
Higher Learning (1995)
A Woman Like That (1997)
Love Stinks (1999)
Love & Basketball (2000)
"Life-Size" (2000)
Coyote Ugly (2000)
Halloween: Resurrection (2002)
Eight Crazy Nights (2002) (voice)
Larceny (2004)
Television
Inferno (1992)
Fresh Prince of Bel-Air (1993)
Just Shoot Me (Episode 46) (1997)
The Apartment Complex (1999)
Felicity (2000)
Life-Size (2000)
America's Next Top Model (2003-present)
The Tyra Banks Show (2005-present)
Punk'd (1 episode)
Comments made
Add comment