Comments
May 01, 2007: Adriana Francesca Lima - sexy Brazilian supermodel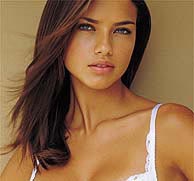 Adriana Francesca Lima (born June 12, 1981) is a Brazilian supermodel. She is best known for her modeling work with Victoria's Secret and Maybelline. Adriana Lima is currently the third highest paid model in the world (behind Gisele Bundchen and Kate Moss). She earned $4.5 million in 2006 according to Forbes.
She ranked 7th on FHM 100 Sexiest Women 2007 and was chosen as one of People Magazine's annual 100 Most Beautiful People in the World, in May 2007 along with fellow Victoria's Secret Angels (Selita Ebanks, Alessandra Ambrosio, Izabel Goulart and Karolina Kurkova)
Early life and career
Lima was born in Salvador, Bahia, Brazil in 1981; she is an only child. She is of African, Indian and Swiss descent. A devout Roman Catholic, she had planned to become a nun before she started modeling. Lima's father walked out on her and her mother when she was 6 months old. Lima has met him only once since. When she was about 15 years old, Lima wanted to travel to Miami for a modeling competition but she was not allowed to leave Brazil without certain legal papers that her father owned.
Adriana Lima was discovered while at a local mall at the age of 13. She finished in first place in a Ford Supermodel of Brazil model search. Lima later followed with a second place finish in the 1996 Ford Supermodel of the World contest.
Modeling career
Lima moved to New York City, and eventually moved on from Ford, signing with Elite Model Management. Her early career consisted mostly of fashion editorial work (with early appearances in international editions of Vogue and Marie Claire in 1997/1998), as well as runway work (Christian Lacroix, Valentino, and others). Lima's first big break came when she was featured in a Vassarette billboard in Times Square. Her print career followed, and like many other famous names (Claudia Schiffer, Laetitia Casta, Eva Herzigova), Lima became a GUESS? Girl in their 2000 Costanoa and has face campaign.
Lima continued to build upon her entry, doing more print work (Maybelline, bebe, Mossimo, BCBG) and gracing the cover and editorials of more high fashion magazines (Harper's Bazaar, ELLE). Probably best known for her Victoria's Secret work and Angel status (along with Heidi Klum, Gisele Bündchen, and Alessandra Ambrosio), Lima first graced the VS runway in 1999, and was the show opener for the 2003 Victoria's Secret Fashion Show.
In 2001, Lima starred in BMW Films short, The Follow alongside actors Mickey Rourke, Clive Owen, and Forest Whitaker. In the film, Owen's character is hired to follow Lima's, who is suspected of cheating on her famous husband, played by Rourke. The film had a runtime of 8:47 including credits, was written by Andrew Kevin Walker, and directed by Wong Kar-Wai. Lima made it clear that acting is not her priority and that she only did The Follow because it was a short film.
She is represented by DNA Model Management NYC in the United States, Lumiere Models in Brazil and VIVA Models in Europe.
Print
Anna Sui Jeans, Armani, BCBG, Bebe, Blumarine, BMW, Emporio Armani, Forum, French Connection, Gai Mattiolo, Gasoline, George Rech, Giorgio Armani 'Emporio Armani White' fragrance, Guess? Jeans, La Perla, Maybelline, Mossimo, Pirelli Calendar, Swatch 'Skin' watches, TIM, Vassarette, Victoria's Secret, Victoria's Secret ´So in Love´ fragrance, XOXO
Brazil Audi - August 2002; Elle - November 2002
France Max - September 1999; Photo - July/August 2004; Photo - August 2005; Photo - August 2006
Italy GQ - June 2006
Mexico Vogue - February 2005
Portugal GQ - June 2003
Spain GQ - December 2002; GQ - May 2006
UK Arena - February 2002; GQ - November 2002
US Elle - March 2003; American Photo - March 2004; GQ - April 2006
Year Fashion Show
1998 Anna Sui, Mark Eiser
1999 Balmain, Emanuel Ungaro
2000 Balmain, Carmen Marc Valvo, Christina Perrin, Emilio Pucci, Emporio Armani, Girls Rule, NYC 2000, Richard Tyler, Sportmax, Vera Wang, Carmen Marc Valvo, Christina Perrin, Cividini, Emporio Armani, Enrico Coveri, Erreuno, Fendi, Girbaud, Krizia, Nanette Lepore, Ralph Lauren, Randolph Duke, Rebecca Danenberg, Richard Tyler, Sully Bonnelly, Valentino, Vera Wang, Yigal Azrouel
2001 Carmen Marc Valvo, Escada, Nanette Lepore, Ralph auren, Richard Tyler, Valentino, , Victoria's Secret
2002 Alexander McQueen, Istvan Francer, John Galliano, Victoria's Secret
2003 Alexandre Herchcovitch, Christian Dior, Guy Laroche, Bobbi Brown, Sean John, Versace, Victoria's Secret
2004 Christian Dior, Leonard, Victoria's Secret
2005 Luca Luca, Victoria's Secret
2006 Giles Deacon, Luca Luca, Victoria's Secret
2007
Personal life

She has been romantically linked to celebrities in the past, including an engagement with rocker Lenny Kravitz and Major League Baseball player Derek Jeter.. Up until recently, she was known to be dating Prince Wenzeslaus of Liechtenstein. The relationship had been a relatively juicy topic for the society spy columns and celebrity watchers, specifically Page Six, New York Post and Hola! online magazine. She recently broke up with him for Denny lead singer of Timbalada.
Lima has admitted that she was shy around boys when she was younger, and can still to this day freeze when she's around them. She got her first kiss at 17 years old, and has told reporters that she's been in 3 relationships; not including her current relationship with Denny. In an interview with GQ, Lima told the magazine she is a virgin and that she intended to stay that way until she gets married.
Charity
Lima does charitable work helping with an orphanage, "Caminhos da Luz" (Ways of Light), located in her hometown. She helps with construction to expand the orphanage, and buys clothes for poor children in Salvador, Bahia.
Comments made
AMANECERE EN TUS LABIOS,LOS LLENARE DE BESOS Y ESCRIBIRE POEMAS EN TU PIEL, LUEGO LENTAMENTE SIN ABRIR LOS OJOS,TE DECLARARE MI AMOR.
February 22, 2009 12:19:24 | Keep up-to-date -->
Subscribe to Comments...
|
Subscribe to Comments by Email
Add comment